Fishing in Cape Verde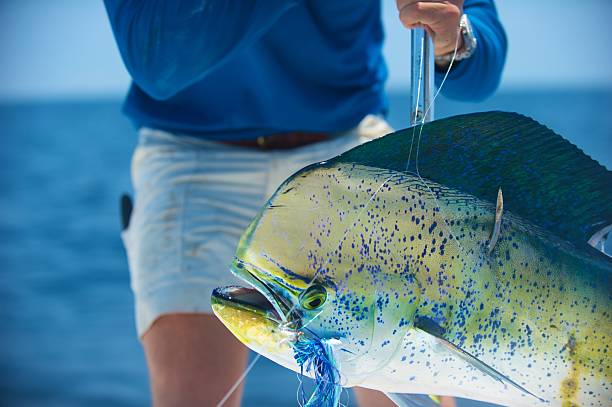 The crystal clear waters of Cape Verde and its warm currents make it the ideal place for sport fishing and tourism. Fishing in Boavista is a very popular activity for both tourists and islanders, who often practice fishing as a means of subsistence.
Fish species found in Boavista waters include tuna, wahoo, barracuda, marlin and dorado, as well as garope and several types of grouper, moray eels and smaller fish.
Fishing in Cape Verde can be practised both in the open sea and in inland waters, with different techniques and equipment depending on the type of fish you want to catch. For example, offshore fishing may require the use of boats and professional equipment, while inland fishing can also be practised with simpler equipment such as fishing rods and natural bait.
To practice sport fishing in Cape Verde, you must obtain a fishing permit from the local authorities and comply with the laws and regulations on sustainable fishing, or go out to sea with qualified agencies. Furthermore, it is important to be aware of your abilities and limitations and to rely on expert guides and adequate equipment to ensure safety during your fishing activity.
Moreover, Cape Verde is also an ideal place for spearfishing, with a wide range of marine species and exceptional visibility. Underwater fishing can be practised by both expert divers and beginners, with the support of qualified dive guides.
In conclusion, fishing in Cape Verde is a fun and exciting activity that offers the opportunity to discover the natural beauty of the islands and to catch some of the most valuable fish species in the world. With the right equipment, due precautions and compliance with local laws and regulations, fishing in Boavista can be an unforgettable experience for all participants.
The fishing excursion in Boa Vista depends on the season, depending on the weather conditions and the water temperature. In a Big Game fishing trip and trolling it is possible to catch Yellowfin Tuna, Wahoo (Greenhouse), Sailfish (Sailfish), Lampughe (Dorado) and many other fish between 15 and 70 kg in size.
The fundamental rule of fairness is catch & release. If it is not possible to release the fish, it will be hoisted on board and donated to associations that help families in need. The fishing equipment is rigorously selected with products from the best brands such as Shimano, Penn, Alutecnos, usually with 80-130 pound rods and reel and 0.90-100 line.
The fishing trips are made with high quality and performance Fisherman.
DEPARTURE: the excursion starts at 8.00. You can select a preferred day, but it can vary according to marine weather conditions. In this case, the excursion will be postponed or cancelled with a refund.
RETURN: expected after about 6h (half day) or 8h (full day).
TRANSPORT: Further details will be provided after booking. It is possible to arrange a taxi to your accommodation for a small extra cost.
EXCURSION PRICE: starting from € 300 (max 2 pax), € 400 (max 3 pax), € 1,250 (max 6 pax)