Riu Hotel in support of turtles preservation in Cape Verde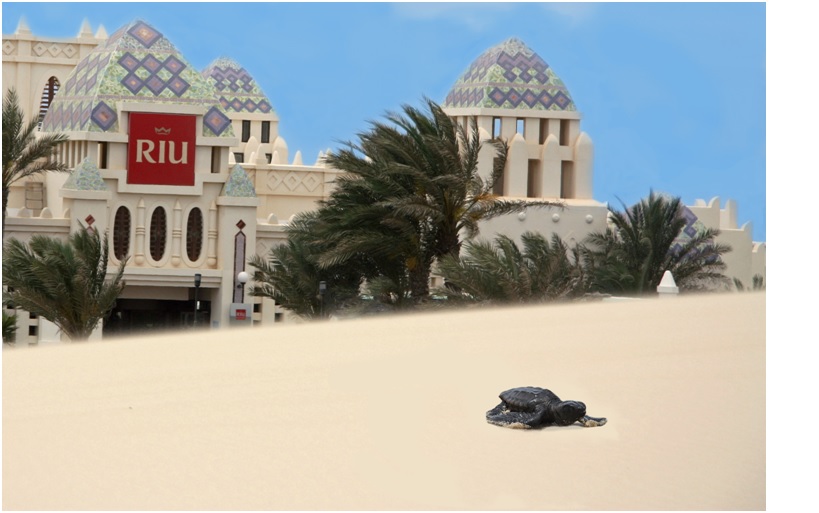 The RIU Hotels are doing their best to support the preservation of what makes Cape Verde so beautiful. On the islands of Boa Vista and Sal, RIU has partnered with local NGOs to conserve the sea turtles that nest and are born on their beaches. In Boa Vista, RIU has partnered with BIOS CV since 2011, and in Sal, they created another partnership in 2016 with Projeto Biodiversidade.
Both partnerships aim to protect and conserve the natural environments of the islands for wildlife, with a special focus on sea turtles. In both cases, the NGOs set up hatcheries where the turtle's nests are relocated to keep them safe during incubation and release.
In Sal, Projeto Biodiversidade relocates nests laid on the beach of the RIU hotel that may be at risk of damage due to extensive use, and tourists can observe the conservationists and volunteers monitor them until the babies emerge from the nests and make their way to the sea. In Boa Vista, BIOS CV has 2 hatcheries, one for their beach João Barrosa, and one in Praia Cabral where nests are saved from the beaches in the city by passionate volunteers and staff. On top of helping with the activities of the hatcheries, RIU supports these organizations through financing the building of campsites, helping maintain the many foreign volunteers that help with fieldwork, and collaborating to host environmental education activities with tour operators and clients.
The RIU Hotels submit themselves to the recommendations of their partner organizations to preserve the environments that serve as habitats for their neighbouring species. As a result of their hard work, the 2018 nesting season saw the highest number of nests in Cape Verdean history on both islands, with the numbers doubling those of 2017 in Sal and tripling in Boa Vista.
During the summertime, it is possible to observe the nesting of thousands of sea turtles, which every year arrive on the beaches of the island between June and September. More information can be found here: TURTLES EXCURSION